Team Sparks from Sri Kuala Lumpur during CA Virtual Training
As the coronavirus pandemic spread across the globe, many businesses are severely affected as regular operations have to be stopped to slow down the spread of the illness. The cheerleading industry is not exempted from the effects of this global issue. Gyms are closed, practices are put on hold and even cheerleading competitions are either postponed or cancelled altogether.
When regular cheer practices are prohibited at this trying times, what can cheerleaders do to keep up their peak physical condition? The good news here is Cheer Aspirations coaches have put on their thinking caps and came up with an innovative alternative: CA Virtual Training!
What is Virtual Training?
As the name suggests, virtual training is cheerleading training being conducted through video conferencing applications. Everyone from their respective homes will meet in a virtual meeting set up by the coaches at the designated time slot. Once everyone gets dressed in their practice wear and logs in, the class is ready to go!
Cheer Aspirations virtual training starts with the usual warm up and stretches, followed by some conditioning work, stunt drills, tumbling drills or jump drills. After that, coaches teach exciting dance choreography or  a solo routine. Next are team bonding sessions and even team challenges!. 
Aside from Cheer Aspirations, many other cheerleading companies and gyms around the world have created similar programs to keep cheerleaders active and engaged in the sport. For example, American all-star gyms like Cheer Athletics, California All-Stars and Top Gun All-Stars have uploaded schedules and dance choreographies for their cheerleaders to practice in their homes!
Fun and games!
Even though coaches and cheerleaders are not meeting in person, we want to keep the enthusiasm and excitement going strong! Our coaches do our best to keep things creative and innovative! In one of the trainings, there is a game involving a spinning wheel on the screen. Cheerleaders are asked to spin the wheel that is filled with different kinds of conditioning work and whichever conditioning work the pointer lands on everyone will do that for the session.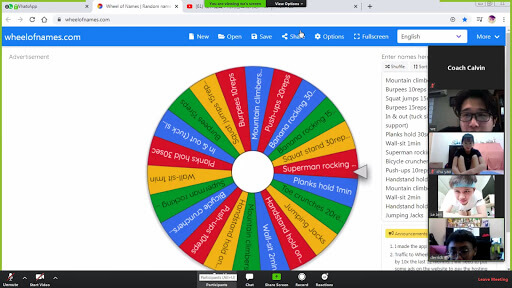 A different spin to making conditioning work fun!
Virtual Training also brings a new twist to our usual favorite cheer games. For instance "Ships and Sailors", where the commands and actions are modified so that everyone can play the game even though their teammates are not physically with them!
Stunt, Tumbling, Jumps, Dancing and Routines!
With social distancing in place, our cheerleaders are unable to stunt with each other, but they can work on stunt techniques by using a shoe as a flyer for instance! 
For tumbling, coaches need to ensure our cheerleaders train safely, so we focus on tumbling technique drills! We break down tumbling skills into microscopic skills and all cheerleaders need is a wall to train with! 
This is also the perfect time to work on jump conditioning so when cheerleaders go back to physical classes, their jumps will still be sky high!
There's more! We also teach funky dances or solo cheer routines! Our cheerleaders have so much fun that time just whizzes by to the end of their practice. Our cheerleaders even learn solo routines and perform their routines for their families to watch!
Team Bonding
Even though social distancing measures keep everyone physically apart, we as humans, especially cheerleaders still crave for social connection and emotional support from each other. In the final few minutes of training, we have designated team bonding time! Our cheerleaders connect and catch up with one other in this time. Cheerleaders will be separated into smaller groups (We use the breakout room function in Zoom) so they will have a safe space to share their love, concerns and latest happenings with each other.
Up for the Challenge
Aside from that, we got our teams to come up with something special while observing stay at home orders. One of our team challenges was to come up with a photo montage that forms a heart-warming message appreciating the frontliners who are on duty during the pandemic.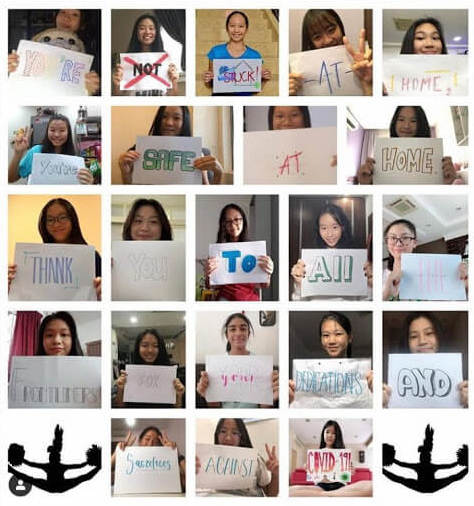 Team Cyrens from Sri Kuala Lumpur's photo montage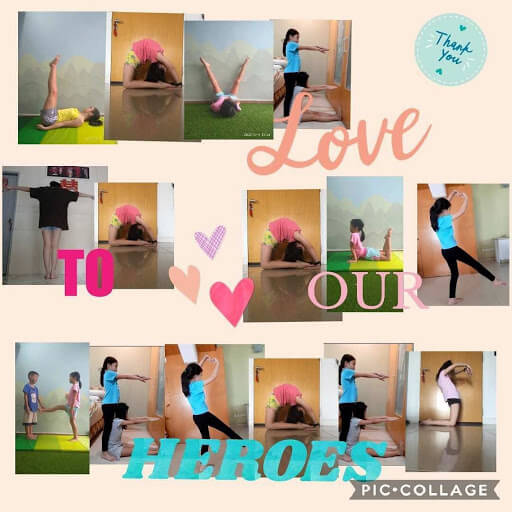 Team Phoenix from SJKC Puay Chai's photo montage
In another challenge, our cheerleaders created a video of themselves "passing" a bottle of sanitiser around and doing some cool cheer moves! These challenge videos give the team a sense of fun and accomplishment! Watch Team Lynx from SK Bukit Damansara's video challenge here:
https://www.facebook.com/watch/?v=700248840736482
Other Virtual Training Resources
Aside from Cheer Aspirations, many cheerleading organizations have also crafted workout videos and lessons for cheerleaders to do at home. Here are some of them!
Spring CDT Virtual Training:
https://www.facebook.com/groups/1612872222327821/
Cheer Conditioning Academy:
https://www.cheerconditioning.academy/
Cheer IQ:
https://www.instagram.com/cheer_iq/
Cheer Info CIC:
https://www.instagram.com/cheerinfocic/
Let's Keep the Cheer Spirit Going!
Virtual Training is one of the ways to keep the spirit of cheerleading alive. With a little help of technology, this gives the chance for cheerleaders to share some doses of positivity in these uncertain times to each other, and also to the rest of the world.
Would you like to join Cheer Aspirations Virtual Training? Please contact cheeraspirations@gmail.com for more information!